Do you spend far too many hours on manual data entry? Do you find yourself copy and pasting for hours on end? Want form responses in spreadsheets? Or how about newsletter signups added to your constant contact?
There are simple solutions online for automating the most common tasks many of us are still doing on our own. In this workshop we'll explore one of these popular (and affordable) tools that anyone can install on their own.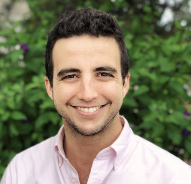 Roey Kruvi was born in Haifa and moved to California at the age of ten where he's been living since then. Since relocating to Encinitas five years ago, he has taken on several new hobbies, using his free time to surf, horseback ride, learn the piano, practice yoga, and spend time with his family. He graduated from UC Berkeley dual B.A.s in Geography and Interdisciplinary Studies. Roey appreciates opportunities to live communally, skill share, laugh at himself, laugh with others, go to potlucks, breathe (thanks, lungs!), read books, negotiate bus fares, and eat lunch by gorging on farmers markets' samples. Roey's passion and dedication are in informal education of youth, especially in wilderness and/or outdoor settings, and he has several years' experience designing and implementing experiential education curriculum, both in and outside of the Jewish world. Also, he's a big fan of being alive and not taking himself too seriously. Roey is a cancer survivor and doesn't sweat the small stuff. At work, Roey is the Sr. Director of Immersive Experiences at Moishe House and has created several programs there, including Peer-Led Retreats, Camp Nai Nai Nai, 4HQ Israel Encounters, and more. Roey is also the founder of Beacons Tech Consulting, a business that provides affordable tech solutions to small and medium-sized nonprofits. Roey is the winner of the 2017 JPRO Young Professional of the Year Award and 2016 ROI Fellowship member.